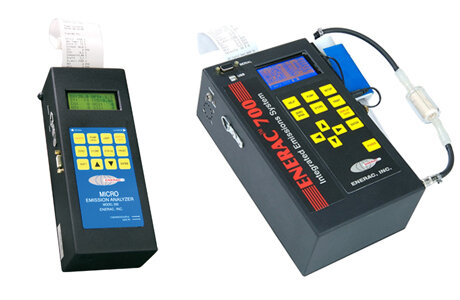 Enerac is your source for compliance-level, portable handheld combustion and emission analysers and we're pleased to announce we are now distributing two of their models, the 500-7 and 700AV.
Enerac 500-7 Handheld Combustion Analyser
The Enerac 500-7 is a compliance-level, handheld instrument suitable for the analysis of NOx (NO and NO2) in diesel exhaust emissions.
Hand-Held Combustion-efficiency Analyser & Emissions-Monitoring System

Measures NOx (NO / NO2), CO2, O2, Draft and Temperature (Stack / Exhaust)

Heavy Duty, Light-Weight Aluminum Case

Powered by 4 X AA Rechargeable Batteries

Built-in Thermal Printer: 2" Character-type

Bluetooth, USB & RS 232 Serial Port

400 sets of internal data storage buffers

Free Windows Software
Enerac 700AV Portable Compliance-level Combustion Emissions Analyser
The Enerac 700AV is a 5-gas* analyser designed for supporting the automotive and vehicle mobile engine exhaust emissions market.
Measures O2, CO, CO2, CxHy and NO(x), Temp (exhaust) temperature readings

fully upgradeable (config with sensors / options)

includes standard sample conditioning system – necessary for the proper detection and measurement of both NO2 and/or SO2 gasses.

maintains proper control over the NO sensors tendency to drift over time with increasing ambient temperatures.

NO SEM sensor incorporates a proprietary temperature control system designed to automatically hold the nominal filter and sensor temperatures at < 30° C.
More information on these products can be found here.
Enquire now
JANUARY 19, 2018