Description
The DPM-RT 2 is the portable tool that environmental, compliance, ventilation, maintenance and service technicians need to reliably monitor Diesel Particulate Matter (DPM) emissions from the tail (exhaust) pipe of heavy vehicles.
By validating the effectiveness of emissions-related maintenance, costs can be reduced and operators can better understand diesel engine performance and have greater confidence in the air quality of their environments.
A primary means of reducing environmental levels of diesel particulate matter (DPM) exposure to miners is to reduce the amount of DPM emission from the engine. A quick and economic method to estimate engine particulate emission levels has been developed. NB poached from NIOSH Standards.
Health & hygiene of team members
A growing number of research papers have conclusively established that particulate emissions are a great risk to human health.

Given the dominance of diesel power sources in underground mining and other industries means organisations in these areas need to minimise worker exposure to this most dangerous pollutant. A capability to effectively monitor and control tailpipe exhaust or manifold particle emissions in real-time is a critical component in an effective control system for emissions.

Good maintenance can greatly reduce particulate emissions, improving confidence in a safe working environment.
Mechanical repair cost reductions
The level of particulates in diesel exhaust is a very important indicator of engine and injector system health. Reliable identification of high polluters and validation of repair effectiveness is essential. Traditional methods, such as measurement of smoke opacity, have been shown to be significantly inferior to the laser light scattering technologies employed in the DPM-RT 2. The DPM-RT 2 can detect and measure concentrations of particulates with nominal diameter down to less than 100 nm (0.0001mm).


Accurate

Real-time

Repeatable

Practical and simple operation

Rugged

Great support and service turnaround

Australian made

Data logging of results: Record vehicle and section details along with DPM test results to build a repository of your critical historical testing data. With easy access via USB or a web browser using Wi-Fi, the data repository gives users the ability to move away from manual note-taking of results. This saves time and reduces risks to data integrity. The data is reportable via CSV or plotted graphs and is presents a summary with min/max and averages on screen.

Accurate Measurement: Advanced laser light-scattering technology is well established in research and industry around the globe as a reliable real-time measurement of DPM particulate mass concentrations in the exhaust from all diesel engine types in the industry. The DPM-RT-2 utilises laser light-scattering sensing of particulate matter in a simple, modern and reliable all in one instrument.

Rapid Results: The DPM-RT-2 has been pre-programmed to measure particulate mass emissions during a Stall Test or Free Acceleration Test in as little as just one minute through automated programming, all the operator needs to do is watch the DPM-RT-2 screen and control the load of the engine. Watch the DPM levels in real-time while the DPM-RT-2 is processing the sample.

Simple Operation: The instrument is highly automated with a touch screen presenting the 3 sampling operations. With one touch select, the operational test and the DPM-RT-2 instructs the operator how to proceed using the probe and controlling vehicle load. It is designed for ease of use by maintenance personnel as an everyday workshop tool, after minimal training. Routine maintenance of the DPM-RT-2 is limited to checking and periodically replacing one disposable filter.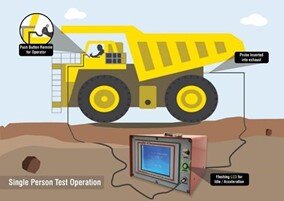 Underground mining vehicles,

Marine diesel engines

Industrial generators

Logistics

Forklifts and heavy vehicles

Locomotives
Data download via Wifi on a web browser or USB flash drive Record vehicle and section numbers with test

Cigarette lighter charger option Rechargeable battery

Portable & lightweight at 4 KG

Field calibration check tool

Traceable to NIOSH 5040 Industry Measurement Standard

Instant measurement of fine particulate levels in diesel exhaust
Supplied with: tailpipe probe, high-temperature sample hose, battery charger (100 – 240 V, 50/60 Hz), calibration-check plug, 5 x spare filter elements (external filters), remote 'enter' button with 7m cable, operator manual, heavy-duty portable carry case (with wheels and carry handle).
Measurement method laser light-scattering photometry

Particle size range <100nm to 10 microns

Particle concentration range 0.1 to 420 mg/m3 (elemental carbon)

Resolution 0.1 mg/m3

Sample Flow 2.0 lpm (nominal)

Range selection auto-ranging

Zero check auto-zero prior to every test

PC connection USB

Battery operation ~3 hr continuous operation per charge

Analyser mass 4kg (approx.)