Description
FreshView PRO-1 is the low cost, portable solution with fixed monitoring functionality, cold room operators can easily, quickly add real time monitoring and recording of Ethylene, CO2, O2, temperature and humidity to any cold room.

---
Features
>AC Powered
>4G
>SMS and Email alerts
>Leading Ethylene Sensor Technology
>Portable from Room to Room, Site to Site
>Data Hosting for QA Recording
Applications
>Degreening
>Ripening
>Controlled Atmosphere
>Storage Monitoring
Benefits
>Know the condition of your room
>Data as a Service option for the length of the season – smaller investment
>QA Control of manual processes and storage history of marketed produce
>Optimise manual gassing and humidity and temperature control
>Be alerted to an environmental problem your cold room conditions before spoilage saving $$$!
---
Customisable!
With power and data over serial Modbus communication add and remove sensors as required, want to monitor outside of a cold room, sure! We can connect your sensors or sensors from our Evikon Gas range or other customer requirements as needed. Pacific Data Systems Australia are the experts in sensing system integration.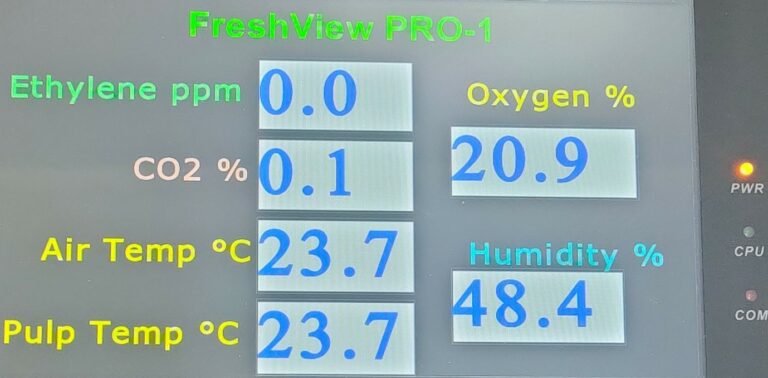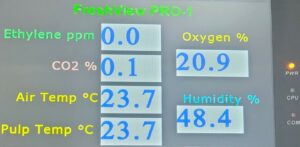 Purchasing Options
Rent or Buy
---
Specifications
Modem: 4G LTE-M
Power: AC with 7.2Ah backup SLA
Sensors
Measurement

Sensor Type

Range

Ethylene
Electrochemical
Optional :

0 to 10 ppm

0 to 200 ppm

0 to 1500 ppm (C2H4)

CO2
NDIR
0% to 20 %
Temperature
Solid State
-40°C to +60°C
O2
Zirconium Oxide
0% to 25%
Pulp Temperature
3 Wire RTD
-40°C to +60°C
Relative Humidity
Solid State
0% to 100%